You guys, I take back every single bad thing I have ever said about the Midwest. It's awesome and the people of Ohio are amazing. Especially state troopers.
Why am I suddenly kissing Ohio's large round butt? Because I was tearing down I-75 toward Detroit yesterday and got pulled over by a State Trooper. An Asian-American state trooper! In Ohio. How's that for shaking your misconceptions?
I turned on as much charm and humility as I could muster and actually said the words, "I'm sorry, I'm from California, I'm used to clogged freeways. This is more freeway than I'm used to."
Jordan hasn't stopped giving me shit for that corny-ass line. But guess what?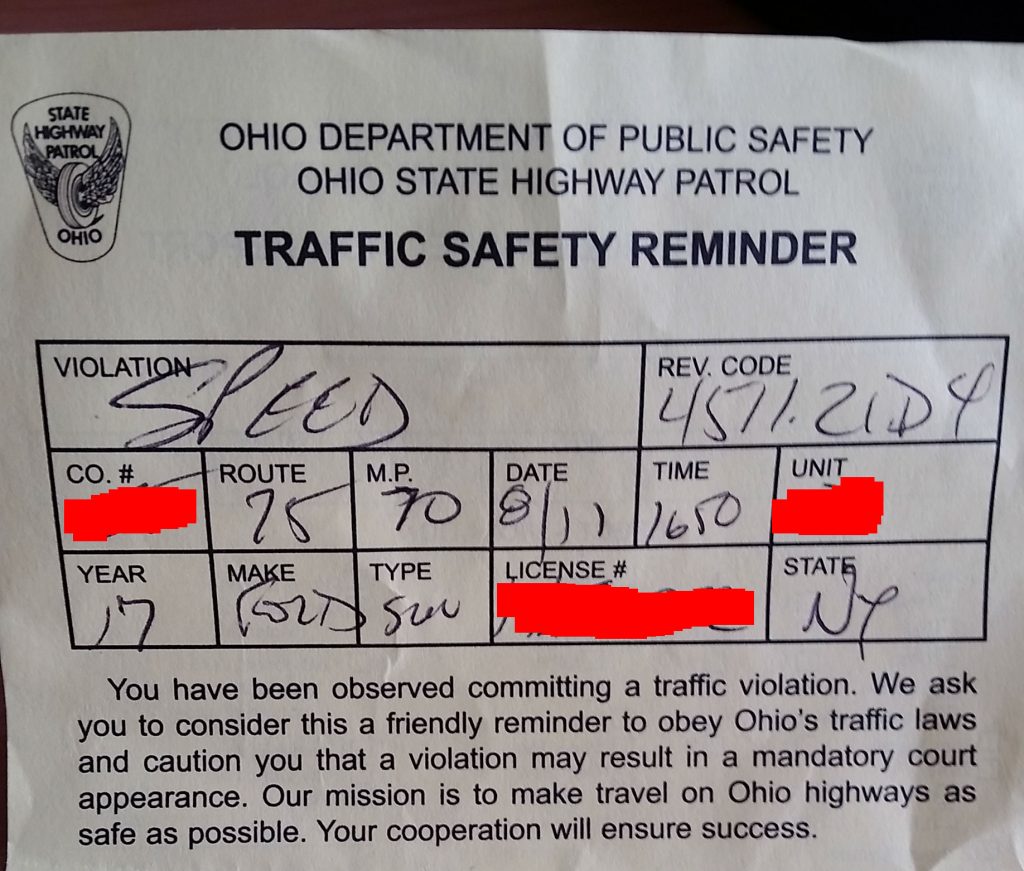 That is NOT a ticket, folks. Ohio, I love ya! Thanks, Sarge!
So we drove EIGHT GRUELING HOURS together yesterday, and I thought Jordan was going to cry. He was so bored, you guys, like a little kid. He looked at his phone so often, I was having flashbacks to bad internet dates. It was endearing.
Once we got to Detroit, another stereotype about a city was confirmed; it was empty. No, seriously, there's nobody here. There was zero traffic on the freeway. Parking was not an issue – we parked approximately one block from the stadium. No line.
At this point, I should mention that the Tigers are terrible, which really kills attendance. But they still have the most fearsome hitter in baseball, Miguel Cabrera, and he's worth the price of admission alone. We saw him robbed of extra bases on a spectacular catch by Byron Buxton. Notes from the journey as we move on toward Chi-town:
Comerica Park is the best ballpark so far
It was beautifully constructed, because former owner Mike Illitch loved to spend money. That's a great owner. RIP Mr. I (he died last year).
There are giant bronze statues inside the park, as well as several attractions like a carousel full of tigers instead of horses. We sat right behind the visitor bullpen.
Downtown Detroit is lively
Lots of people walking around after the game, going to bars and clubs. We hit up a couple of popular spots afterward, paid too much for Cokes. It's going to take me 3 days to wash this stupid stamp off my wrist.
AL Home Teams Hate Us
It must be because Jordan despises the American League, even though it's far superior to old-man baseball in the NL.
AL home teams are now 0-3 on our roadtrip, and we're heading toward another AL ballpark tonight. Sorry, White Sox fans – you're losing tonight. At least there's a free baseball hat!