I've been putting this off for a while.
Now, as any writer will tell you, this is normal. Writers hate the writing process, and the easiest way to get a reporter to clean their house is to assign a deadline. We procrastinate by nature, and we've all convinced ourselves that we write better under the gun. Whether that's true or not is irrelevant: it's a self-fulfilling prophecy. We don't know if pressure actually makes us better, and no writer has ever turned anything in early so we could test it. I guess we'll never know.
Either way, I've been George R.R. Martin about this. The last Raider game at the Oakland-Alameda County Coliseum was a month ago, and I still hadn't given my own postmortem for the Coliseum. And I have some stuff to say.
Usually, I don't believe I need to add to the discourse: we are overflowing with hot takes these days, as I mentioned in my very first blog post. But the people who know the Coliseum best haven't been the ones writing about it. It's been a lot of national sportswriters who are passing through, capped off by Cousin Sal's completely made-up story about being "almost mugged" at the Coliseum. He said this happened during a Bill Simmons podcast, and I will wager any amount of money that it never did. Go ahead, listen to the story. Then ask any Raider fan if they think it happened. I don't want to call it racist, but it's ignorant at best. Does Cousin Sal know who lives in Oakland now? The story sounds like a very outdated stereotype about Oakland and Raider fans.
I have been a Raider fan since 1995, and I have averaged one Raider game every year since 2007; I even had season tickets twice. I have never – not once – felt unsafe. I have never seen an opposing fan be made to feel unsafe. Once, in 2009, the Bengals were visiting and a Raider fan would not stop harassing a guy in a Bengals jersey. The Raider fan was warned by security, didn't listen, and was subsequently booted. That's the worst altercation I have seen inside the stadium. The parking lot might get a little rowdy sometimes, but there are plenty of cops walking around. No one is in danger there. It's a party.
And that's what has stuck with me the most: the party. That's where the name of this blog post came from. We love the Raiders and we have gotten used to the Coliseum; but what most fans are going to miss is the party. The camaraderie. The fun.
Some of my most joyous moments as a sports fan have come from the Black Hole, which might be hard to believe if you know the Raiders' record. But what's great about the Raider Nation is what's great about all fanbases: it's a community. A big club of people who wear particular hats, and share unique pain together. Like this comic: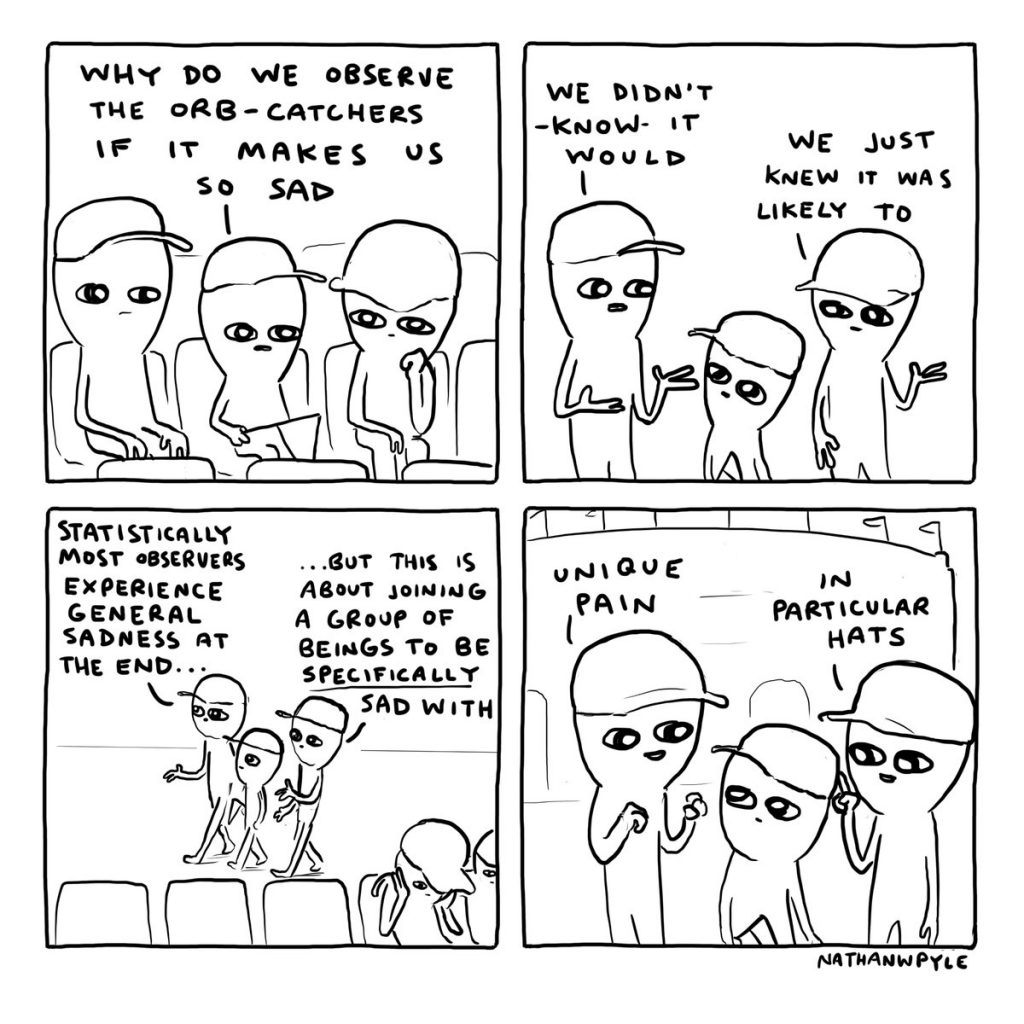 It's weird to boil it down to that, but it's the truth. I have made friends through my sports fandom, and high-fived a lot of strangers. Few things are as joyous as a walk-off home run or a big touchdown in front of the home crowd. To hear the "Raaaaaaaaaideeeeeers" chants ringing through a victorious Coliseum will always bring a smile to my face; it's a memory I'll cherish forever.
The Raiders leaving Oakland actually reminded me why I love sports.
And let me be clear: it's bullshit. It's bullshit that they're leaving, and it's bullshit how Mark Davis treated the city and everyone in it on the way out. But the NFL is the most corporate of all sports leagues, and the only thing it loves more than itself is cold, hard cash. Piles of state money went into the Las Vegas Raiders' glorious new Death Star of a home, and do you know how many times the public got to vote on it?
Zero. Taxpayers had no input. It was approved by the state bureaucracy.
American sports leagues are going to wring every dollar out of every city that will let them. It's not going to be this way much longer, and the leagues know that: which is why the NFL was always going to chase the free taxpayer funds in Nevada. A state with no income tax, btw. In case you're an NFL player and you want to join my Raiders.
Because unlike Mark Davis, I won't be abandoning anyone. It's a complicated decision to stay with a team when they choose to leave you in the dust, and I don't begrudge anyone who is letting go. You have every right to be hurt, every right to move on.
But I'm sticking with them. In the end, we root for laundry: and as much as I love the Raiders being 70 miles from my house, I understand the business. My beloved Oakland Athletics used to be in Kansas City, and Philadelphia before that. This is how sports teams operate. They will move, regardless of how many fans cry out. Only one city in recent memory has saved its team: the Sacramento Kings. As a loyal fan, I played the tiniest part in that. But that's a story for another day.
There was no chance for Raider Nation to keep its team; no former All-star mayor with league connections to lead the charge. Oakland mayor Libby Schaaf didn't make the Raiders a priority, and they were never going to get any money from the city. Now, she's left with just the Athletics, and she better make them happy – because she's 0-for-2 on keeping professional sports teams in-town.
---
There is no wifi at a Raiders game.

There is wifi at the Coliseum. If you turn on your wifi, you can see the networks that are allegedly available. But the free fan wifi provided by the Athletics is turned off for Raiders games (these roommates hate each other). And whatever the cost would be for a free wifi network (which is an expected amenity at any modern sporting venue), the Raiders refuse to spring for it. And so, every time I attended a Raider game, I couldn't even look up the score of the game I was attending, because cell service is nonexistent. It's a mild annoyance, but it's indicative of the relationship between Raiders owner Mark Davis and the city of Oakland.

This was never going to work out. Even if Doctor Strange could view every possible outcome of the Raiders-Oakland partnership, he wouldn't find one where it works out.

Al Davis was never loyal to a city, and we loved him in spite of it. And if you remember his final years, you'll remember that many fans couldn't wait for him to die. He was ridiculed for his overhead projector firing of Lane Kiffin, and not just by sportswriters. But Al Davis is the Raiders, and vise versa, as I wrote for Bleacher Report after his death. You cannot separate the two. To love the Raiders is to accept the Davis family – including Lloyd Christmas, er, Mark Davis.
But let's not waste any more words on a failson in America. Let's talk about my first real Raider tailgate.

It was 2005 and the Raiders were featured on ESPN's Sunday Night Football for opening weekend. The game was starting at 5:30pm – so imagine my surprise when my older sister told me to be ready by 7am.
We arrived in Stockon around 8am to meet up with a large group of people at Safeway. As soon as everyone arrived, we pooled money and food together. The food was consolidated into coolers while two people went inside for final purchases and ice. Before I knew it, I was in the back of a raucous SUV headed in a caravan to Oakland.
But when you arrive that early to a game (about 7 hours before kickoff), the parking lot gates aren't even open. We waited in a line of cars on the Hegenberger Road offramp for about an hour.
Once we finally arrived, there were still more people in our party who had set up canopies and barbecues ahead of time (what the hell time did they show up?!). There were probably 15 people at the tailgate, and I knew three of them: but I was soon friends with everyone.
I ate too much barbecue and drank a lot of beer, and still had time to make a sign for the game (it was on ESPN, after all). By the time we entered the stadium, the sun was setting and I had spent an entire day sitting in the parking lot.
The game itself was classic Raiders: look like a competent team for the first half, then fall apart at the end. I got to watch Jerry Porter drop the tying touchdown in the end zone from the Black Hole.
But by then, I had suffered through the infamous Tuck Rule and losing the Super Bowl – I was already dead inside as a fan. And as they say on the Iron Islands, "What is dead may never die!"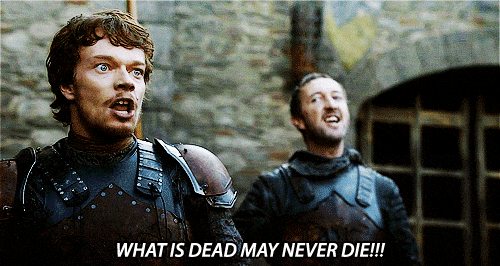 My sister Marie and I walked out to the parking lot together, shambling along quietly with the crowd like mournful zombies. We have gotten far too used to that walk. Suddenly, a middle-aged man burst past the people next to us, scowling around. He glared at some fans who were laughing.
"I hate it when people don't get mad when they lose," he sneered. Marie and I exchanged glances as he walked past, and then immediately started laughing.
"Is it his first Raider game?" she asked me sarcastically.
"I guess he just became a fan yesterday," I replied.
We've done that mournful walk many times since then. And we have yet to be surprised when the Raiders lose. But we do bring up that angry fan every time, and still laugh about it after every loss.
Speaking of losses, we attended the final home game together; an excruciating, last-second loss to the Jaguars. When the Raiders punted the ball back with 1:44 to go, I already knew. My sister knew. Most of the fans in the stadium knew.
When the Jaguars took the lead with 31 seconds remaining, I laughed.
That was the most Raiders ending ever. They find new and innovative ways to break your heart.
That's why we don't get mad when they lose.
---
And yet, I will miss my Raiders and I will miss that big concrete bowl in the fall. I'm actually going to miss a great many things.
I'm going to miss the tailgate.
I'm going to miss the sound of the dozens of boomboxes playing loud music, joyously blending into one another as you walk through the parking lot.
I'm going to miss the smells in the parking lot. Carne asada, burgers, chicken, hot dogs – everything mixing together to form the most delicious fragrance.
I'm going to miss the familiar whine of the BART train passing by.
I'm going to miss this view.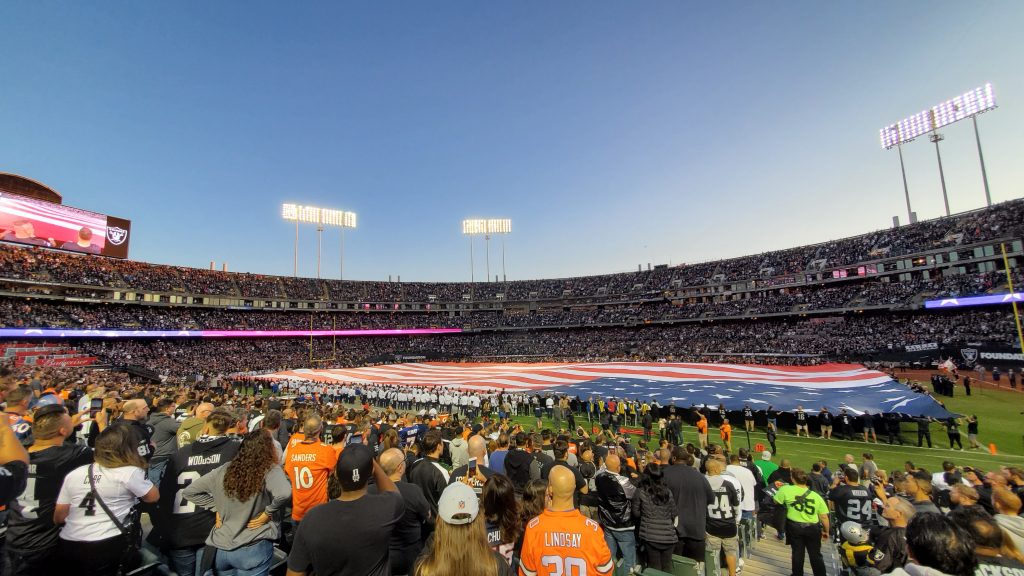 I'm going to miss the hot dog vendors and their delicious $5 bacon-wrapped hot dogs. One of those bad boys when you're drunk off cheap beer is pure bliss.
I'm going to miss the chants of RRAAAAAAAAAAIDEEEERRRRRRSSSSSSS.
I'm going to miss the roar of the crowd when the Coliseum is sold-out and rocking.
I'm going to miss high-fiving the strangers around me when the Raiders score a touchdown.
I'm going to miss hearing the familiar bassline of Ice Cube's Raider Nation anthem.
I'm going to miss seeing Oakland legends light the eternal flame in honor of Al Davis.
But what will I miss most of all? The Raider Nation. All the Silver-and-Black clad fanatics who shared tears, high-fives and curse words with me throughout the years.
When this blog started, I had just been to Cooperstown for the first time: a tremendous place full of history. I loved it. But what I loved even more was the encounter I had that night, at the lonely CVS in town.
That was the last time the Raiders made the playoffs, in 2017. Derek Carr broke his leg at the end of the regular season, and they never had a chance against the Texans in the first round. I slept through most of the game: I'm a Raiders fan. I've seen this movie a million times before.
But after the game ended, I needed Diet Coke – and realized the last store in Cooperstown was closing in about an hour. I drove carefully though the snow (it was a balmy -4 degrees outside) and walked into the desolate store, looking for my soda.
As I grabbed a 2-liter and headed for the door, I saw a heavyset Hispanic man walk in, wearing a Raiders beanie. I just happened to be wearing a Raiders beanie as well. As soon as he saw me, we exchanged despondent looks.
"They fucked us up, man," he said, shaking his head.
"We never had a chance," I replied.
We immediately commiserated about the game, and I learned he was from the Central Valley, like me. He moved to New York for work.
To me, that's what being a sports fan is all about: the bonds forged through fandom. It is one of my all-time favorite memories, and yet, I can't remember the guy's name. I probably couldn't pick him out of a lineup.
But I do remember the unique pain we shared; wearing particular hats.