Good morning! It's 7:49 a.m. in beautiful, sunny St. Louis Missouri. Let's just take a look outside…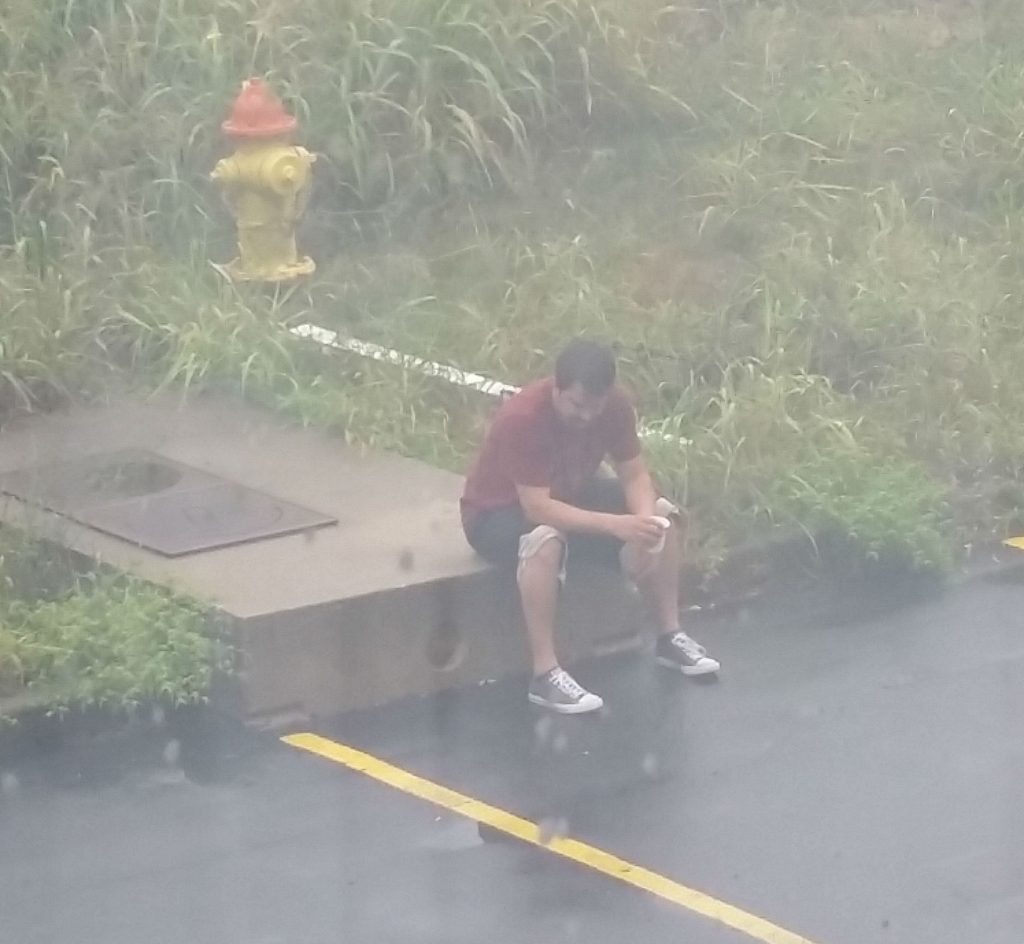 Rain?! Well, that hasn't happened all trip. And look, it made Jordan turn into Sad Keanu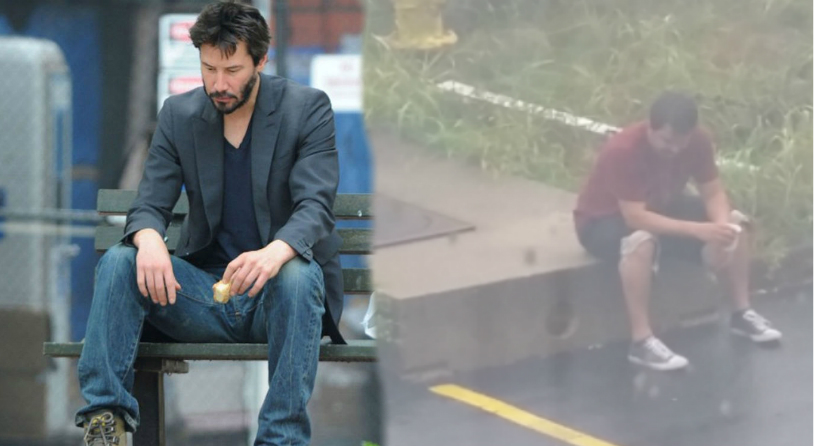 We're hitting the road to Detroit today, for our longest leg of the journey – 8 hours! We actually flew into Detroit because it's really cheap to fly there, and then we drove to Cleveland. Crazy? Yeah, a little, but so am I. Also, Budget doesn't have mileage restrictions within the Continental Untied States and gas is like $2.15 here. We're goin' ham.
Yesterday was a wild one. We woke up at 8 a.m. in Cleveland and started driving to Cincinnati, making it there just before first pitch at 12:10. The Great American Ballpark (or Small Park, to jerks like me and Jordan) is on the banks of the mighty Ohio River. It has an endless sea of red seats, fake smokestacks that shoot fire (woohoo pyrotechnics!) and a Hall of Fame you have to pay to get into (uh, no). It's a gorgeous park, and it features the famous Skyline Chili.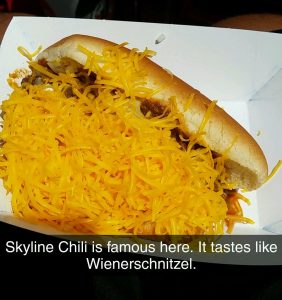 If you ask me, it tastes like Wienerschnitzel. Not that great. But maybe you have to be from the Midwest to like it.
We left in the 4th inning to make it to St. Louis for the night game, approximately 5 hours and 18 minutes away. Thanks to my lead foot and clear roads, we made it during the first inning. Also, the highways here are still empty, unlike California – not much traffic. You can't drive to Redding at 3 a.m. without traffic in California.
But they weren't lying about the Midwest being kind of… plain. All we saw were rows of corn stalks, grassy fields and a bunch of trees. It was like driving down I-5 to Los Angeles, just greener. And with LESS gas stations.
The light came on in our Ford Escape and then we didn't see a gas station for 35 MILES. Guess when the light comes on? When you have about 35 miles left in the tank. I didn't read the manual, but we put 15.007 gallons in the tank afterward and I'm pretty sure it's a 15-gallon tank. We found an extra 0.7 in fumes to make it.
And do you know how much it cost to fill up the tank of this grocery-getter SUV? $36! Gas is so cheap here. One of the bright spots.
We also saw our first two Trump signs, and I honestly thought we'd see more. I don't have anything else to say about Trump, I just had to mention him so I could use the title of today's blog. I'll do anything for a good pun.
St. Louis is a big, beautiful city, and the skyline is impressive. And as their reputation suggests, these fans are insane about baseball. Look at these nerds – the Royals were down to their final strike and got a lucky break single. This is how they reacted.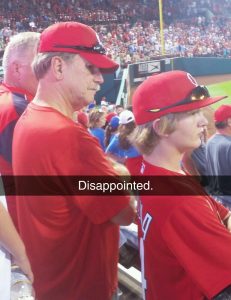 Relax, you guys. The Cards still won the game.
Then, we went to White Castle, because neither of us had ever been to White Castle. It's like Midwestern Jack in the Box with sliders. I bet it tastes great when you're coming home from the bar at 1 a.m. Wait, do they have last call in Missouri? Do people have to stop drinking at a normal hour here?
Anyway, the Cards won, and we saw Dexter Fowler hit the go-ahead a grand slam, which landed about 25 feet to out left. That was fantastic.
So far, we've seen four teams in four ballparks, and witnessed a home run each time. The AL home teams are 0-2 and the NL home teams are 2-0. We've traveled 757 miles across 6 states (Michigan, Ohio, Kentucky, Indiana, Illinois and Missouri) in less than 36 hours. I'm tired! But I'll sleep when I'm dead. I've got Rockstars to drink and baseball stadiums to see.
Hopefully I'll get this lazy ass Guinn to write me something today. Either way, we're headed to the Motor City to see the Tigers. I'll leave you with a little Motown to set the mood: