Still I can't let go. It's unnatural! I belong to baseball; baseball belongs to meeeeeee….
(This post was written Monday morning)
Fear and Loathing in America's Heartland has come to an end, as I sit here sipping Diet Coke and waiting to board the plane back to San Francisco. Guess who has to teach a class in Pleasant Hill in 15 hours? The guy who says to sleep when you're dead (me). Let's hope I can sleep on the plane this time.
Saturday night we went to new Comiskey Park (real name: Guaranteed Rate Field) to see the White Sox take on the Kansas City Royals. It was hat giveaway day, plus I got a free shirt for checking in on the Ballpark app (which I do at every game, anyway). And yet, there were plenty of good seats available. The team is giving away entire outfits and people still won't come.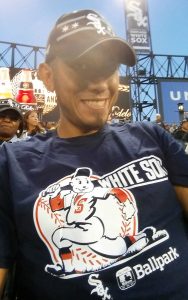 The White Sox lost, which means every AL home team we saw lost (0-4). Jordan's hatred for the AL was an effective curse.
Sunday afternoon we went to the land of beer and brats, Miller Park in Milwaukee. Lewis Black once said that people in Wisconsin aren't drinkers – they're professionals. I now believe him.
I heard more slurred words than I can remember. Everyone had a beer in their hand. Are people born with an extra liver in Wisconsin?
We finished the trip with deep dish pizza in Downtown Chicago, which is basically pizza casserole. Jordan ordered a side salad, because he is a dirty heathen Californian. Filling up on rabbit food instead of delicious three-inch thick pizza.
Some final thoughts before I head back to the Golden State:
The Coliseum is a fricken' dump
You know how I can talk shit on my siblings, but strangers aren't allowed to? That's how I view the Coliseum. You better not say anything bad about it – but I can. And it SUCKS.
Someone please build my A's a new stadium. Every stadium I saw in the Midwest was better than the Coliseum. By a mile.
The freakin' Milwaukee Brewers have their own suburban palace, and they play in Milwaukee. Also, how is it that TWO Ohio baseball teams have nicer stadiums than we do? The A's have 40 years of tremendous history in Oakland, and the fans deserve a stadium to match.
"The Selig Experience" at Miller Park is nauseating
I've seen propaganda films from third world countries that were less flowery than this "experience." It's basically a mini-documentary that tells everyone how amazing former Commissioner Bud Selig is, because he kept the Brewers in Milwaukee and got them a new stadium.
Do you know what the doc doesn't say? That Selig was also acting MLB commissioner when he got that stadium built. Feels like an advantage that should be noted, right? Nope, it's not.
You know what else they forgot? How Selig and the rest of ownership looked the other way as ballplayers came into Spring Training the size of parade floats in the 1990s. Barry Bonds' hat and shoe size grew in his 40s, and the good ole' commish never said a cross word about it. Why? Because the owners were stacking cash and "chicks dig the long ball."
Or perhaps my favorite: the fact that Bud Selig is a big reason why my A's don't have a beautiful new stadium. The A's wanted to move to San Jose, but that's technically Giants' territory (long, stupid story). The A's asked Selig for an exception; the Giants said no. So how did Selig make a decision?
He didn't. The lazy old dirtbag let the A's twist in the wind for years, refusing to make a ruling. And then he retired. San Jose is dead. Thanks for nothing, scumbag.
The final numbers
Total distance traveled: 1,757 miles
States visited: 7 (Michigan, Ohio, Kentucky, Indiana, Missouri, Illinois and Wisconsin)
Baseball stadiums visited: 7 (Oakland Alameda County Coliseum; Progressive Field; The Great American Ballpark; Busch Stadium; Comerica Park; Guaranteed Rate Field; Miller Park)
Giveaway items received: 4
AL home team record: 0-4
NL home team record: 3-0
Encounters with State Troopers: 2
Speeding tickets: 1
Number of Rockstars consumed by me: 10