Ladies and gentlemen, I have a deals problem. It's very difficult for me to resist a great deal, especially if it's something I want. I own so many Xbox 360 games I will never play, simply because they were too cheap to pass up.
Well, that mentality got me into a little adventure last weekend. I was presented with a deal I simply couldn't refuse: $78 roundtrip to Dallas from SFO. I've never been to Dallas. And I'm #blessed enough to have a great schedule; I only teach Mon-Wed.
Now, of course, most of my friends don't have that kind of schedule. So this was probably going to be a solo trip. But I live my life with the intention of having no regrets, and as the saying goes, I usually regret the things I didn't do more than the things I did.
But what the hell is there to do in Dallas? Well, the Rangers play there. Let me just look at the Oakland A's schedule…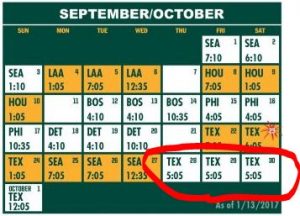 Huh. Well, I'll be damned. I guess I'm going to Texas!
————–
A confluence of events (late alarm, massive traffic backup, BART delays) caused me to miss my scheduled flight at 9:45 a.m. Fortunately, there was another flight to Dallas at 11:40 a.m., and it wouldn't cost me a dime to change it. Trip saved!
So what can I tell you about Texas? It looks and feels like they took the California Central Valley and expanded it into an entire state.
I saw lots of beer bellies, hats, cowboy boots and trucks. And hella' Mexican people. I felt at home.
Because of the later flight, I didn't make my way to Globe Life Park until gametime. The Rangers and A's are both way out of the playoffs, so the stadium was half empty. I was able to sneak close to the A's dugout and got a ball thrown to me by Matt Chapman!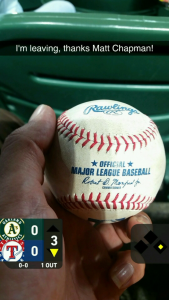 After the game, I tried my first of three regional fast food chains: Raising Cane's chicken fingers. Those chicken fingers are bomb, folks. And they've got some secret sauce that's better than In-N-Out spread.
The next day I headed to Dealey Plaza to see where my childhood idol, John F. Kennedy was shot. Did you know I love JFK? I do! He's awesome. And I learned some new things about him, like he was a huge supporter of the arts.
Since I was late for the game on Thursday, I decided to attend Friday, too – tickets were very cheap.
I showed up right before the gates opened at 5 p.m., and I was standing next to the A's dugout by 5:07 p.m. They didn't take batting practice, but most of the bench players and pitchers were stretching together or playing hacky sack. Yes, hacky sack. Baseball players are bros, bro.
I could count the number of fellow A's fans there on one hand, myself included. There were also several autograph hounds with notebooks full of baseball cards to be signed. During the next hour, I got several autographs, which is always cool. But the highlight was getting to speak to this man personally.
If you live under a rock, Bruce Maxwell is the first (and only) MLB player to kneel for the national anthem. And he plays for the best baseball team in the world.
Bruce went to high school and college in Alabama, so he has Southern connections. He was chatting up a local fan and I just stood there listening out of curiosity. I chimed in a little here and there, but mostly I just wanted to listen – hey, I'm still sort-of a journalist, you know?
After getting a selfie, I shook Bruce's hand and told him I appreciated what he was doing. He was very gracious with his time and signed plenty of autographs for people. He's a class act.
Daniel Mengden also played catch with several kids, which was great. I'll admit I called for the ball and caught a throw from him barehanded. I was grinning like a little kid after that – I REGRET NOTHING.
After all that, I didn't even care about the game; I was pretty happy. But baseball season is almost over and I will miss my boys of summer when they're gone, so I stayed. I decided to try one of the ballpark's specialties: a BBQ burger topped with brisket and Doritos. I inhaled it pretty fast, but I think it was delicious.
I might write a separate blog post to talk about the Rangers stadium, since baseball stadium design is relevant to A's fans right now. Supposedly, we're getting a new stadium in 2023. I've heard that story before.
But back to Globe Life. In short: it's amazing. There are design flourishes all over the ballpark, and the building itself is gorgeous. And even though it's only been open for about 25 years, the Rangers are already getting a new one. It will open in 2020. The Rangers are going to get two baseball palaces before my A's even get one.
So why are the Rangers building a new stadium when they have a perfectly good one already? Because baseball owners are greedy jerks, and other Texas cities were offering to build a new ballpark for the Rangers. Arlington didn't want to lose them, so they approved a new stadium last year. It'll have a retractable roof, for those miserably hot summer days.
I tried my second fast food chain afterward: Whataburger. In the words of Jules Winfield – IT WAS A TASTY BURGER. But no matter what those biased Southerners tell you, it is not better than In-n-Out. Be serious, Texans.
On Day 3, it was time for another first: my first visit to AT&T Stadium. The home of the Dallas Cowboys. Jerry's World.
I showed up at 9:45 a.m. for the VIP Group tour, and it did not disappoint. That building is like a fancy Vegas casino inside a baseball stadium. The clubs and bars look like they belong in the Aria Casino. Opulence does not begin to describe it. Jerry Jones is printing money.
Once we got on the field, there was an opportunity to take a picture at midfield. Because I'm a jerk, I mimicked Terrell Owen's infamous star pose for my photo. Somebody actually booed me from the picture line. Again, I regret nothing.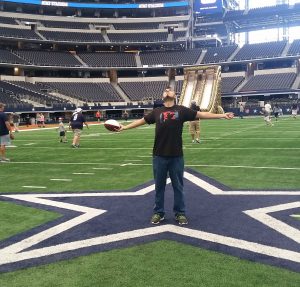 And by Saturday night, I was back in the Bay Area after a whirlwind 50 hours in Texas. With this trip, I have now seen 7 new stadiums during the 2017 baseball season: Progressive Field (Cleveland), The Great American Ballpark (Cincinnati), Busch Stadium (St. Louis), Comerica Park (Detroit), Guaranteed Rate Field (Chicago), Miller Park (Milwaukee) and Globe Life Park (Arlington). I've visited 12 of the 30 MLB stadiums; can't wait to see more next season.