I broke my sunglasses.
That in and of itself is not remarkable. In fact, the sunglasses in question were from the Dollar Tree, because of how often I break sunglasses. That's where I always buy my sunglasses, and there's a reason for that.
As a child of divorce, many things suck, but there are certainly some benefits (Two Christmases! Using your parents against each other!). One of the benefits was having two sets of health insurance, which my mom was probably ecstatic about. That shit is expensive.
Well, one bonus of my twin insurances was I could get new glasses every year. Did I want these glasses? Hell no. I was a kid in the 90s, when wearing glasses still meant you were some kind of four-eyed dork. And my vision is in that gray area where I should be prescribed glasses; but my life is fine without them. So I mostly live without them. I still have the last pair I got – I just haven't worn them in about a decade.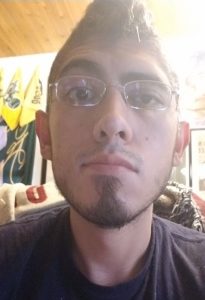 Well, I still got new glasses every year as a kid. But nobody needs a new pair of eyeglasses every 12 months; so every other year, I'd get prescription sunglasses. What a great idea, right? Let's give a pair of $120 designer sunglasses to a reckless, clumsy kid. What could go wrong?
You know exactly what went wrong. I broke every damn pair of nice glasses I got, usually within a month or so. My first pair were charcoal-colored Guess wraparound sunglasses. I snapped one of the arms on those suckers and was heartbroken. So heartbroken, that I kept the broken sunglasses in my room for years. I never wore them again.
I then got some Oakley's a couple of years later. The lenses popped out of those. I told you I was clumsy.
So after breaking a few pairs, I stopped bothering to waste insurance money on designer prescription shades. I started buying my sunglasses at the flea market, so it would only cost me $10 for a new pair. But I kept breaking those, too.
Eventually, I ended up at the dollar store, buying plastic wraparound glasses 2-3 at a time. I mean, if I was just going to break them, why spend so much money?
That's been my method for the last several years. I haven't paid more than $5 for sunglasses since George W. Bush was president. And normally, my sunglasses would last a couple of months before inevitably breaking or getting lost. Good thing I have spares!
But last year, I had a special pair of wraparound sunglasses. There was nothing actually remarkable about them: they were black and made of cheap Chinese plastic. And I go through sunglasses so often, I sometimes forgot what my "current pair" looks like.
But after a few weeks, I started to recognize this black pair of shades. They felt nice, but more importantly, they were resilient.
The first sign came during a softball game. I loved cheap glasses because I had no qualms about going outdoors with them – who cares if they break? The sun was setting as I was on the pitching mound, and I suddenly didn't want my shades anymore. So I "gingerly" tossed them toward the dugout. As soon as they landed, the lenses went flying out, eliciting a series of "ooo's" from the crowd. The umpire kindly picked them up and set them to the side, and I thought they were busted. Oh, well.
So imagine my surprise when I discovered the lenses popped right back in. Apparently, these cheap plastic sunglasses were tough.
A few months later, these sunglasses accompanied me to New York. They braved the whipping cold of Cooperstown in January – where it was a sizzling -4 degrees. They were on my face as I gazed up from the base of the Statue of Liberty for the second time in life. I love that big, beautiful old girl. She's what America is all about.
And then the shades came back to California, where they got a lot of use in my work with Greening Lodi. I wore those shades as I helped paint the mural at our community garden, and got some permanent white paint spots on them. But still, the glasses did not break.
And it was at this point I started to believe there was something special about this pair of sunglasses. They had been through so much, seen so many things. And they persevered. They were a little nicked up, sort-of permanently scarred (by white paint). And yet, they persevered. They did their job again and again.
This summer, when I took the baseball roadtrip that launched this silly website, those same shades were on my face. They saw 1,200 miles of Midwestern highways, hours of baseball and way too many Diet sodas. And yet, they remained.
And at this point, I started to believe they were indestructible. So you know where this is going.
When I took my whirlwind trip to Dallas, the glasses were still there. They were on my face as I met Bruce Maxwell; a courageous young man who might have some issues with alcohol. Nobody's perfect.
But when I returned home, the unthinkable happened. I walked to my car to start my day, and as I sat down in my beat-up old Corolla, I grabbed my shades. I stretched them gently (as I always did), so they wouldn't feel too tight. And as if it were meant to happen, they unceremoniously snapped in my hands. I was in shock. I felt like a friend had died in my arms. My old reliable shades had finally left me. They had survived their last adventure.
———————————————————————
And like so many things in my life, it gave me a chance to reflect. At the same time the glasses broke, a serious relationship of mine broke down. It was hard not to notice the parallels.
At times like these, it's natural to be sad. It's healthy, even. But you can't stay sad. Instead, you should stay grateful.
Because, as The Vision said in Avengers: Age of Ultron: A thing isn't beautiful because it lasts.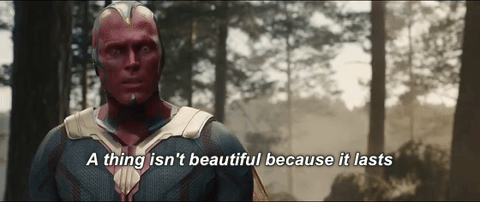 (What, you thought I was gonna' quote Shakespeare? Have you met me?)
I have a heart full of memories from when those sunglasses were on my face. 2017, while terrible in many respects, was a fun year for me. It was filled with adventures and new challenges; old friends and new faces.
As I sit here and look at the broken sunglasses, all I can do is smile. Is it sad that they broke? Of course. I wanted to frame them one day. But that's life. Things come and go. "People in your life are seasons/and everything that happens is for a reason"
And although the sunglasses are gone, the memories will remain. Memories of all the crazy, spontaneous and meaningful things I did while wearing them. That busted pair of shades is evidence of a life well lived. And that's all I've ever wanted. To feel like I'm making the most out of all this.
So in 2018, that's what I hope you do. I hope you break your own pair of sunglasses. Find the things that make your heart rate go up, and then do them. It's not always easy, but it's always worth it.
And do it fast; because you never know when the sunglasses are going to finally break.