Baseball is doomed.
Utterly, hopelessly doomed.
I don't remember the first time I realized it, but I've known it for quite a few years. The end of professional baseball in the US is near. I expect before the end of my lifetime, baseball will become America's 4th or 5th favorite sport – if it's not there already.
And this breaks my heart, because baseball is beautiful. Everyone remembers the first time they walked into a major league stadium – how green the grass is, how big the diamond looks. You can't watch Ken Griffey Jr.'s swing or Justin Verlander's curveball and tell me it they aren't majestic and hypnotic. It is a beautiful game, that makes grown men weep. I have always told people sportswriters cover sports; but baseball writers compose poetry. That's the kind of game it is.
Or the crack of the bat. Oh, I could write a sonnet about the sound of the bat on a home run. You can hear the distance of the ball. When Yandy Diaz hit two home runs in the AL Wild Card game this month, I could feel it in the stadium each time. When he cracked the 2nd one, I said "are you kidding me?" out loud before the ball landed.
"You knew it right off the bat," my friend Tim replied.
I've seen a lot of baseball games at the Coliseum.

Speaking of the Coliseum, one of my favorite movies scenes ever takes place there. It's the climax of Moneyball (the greatest sports movie ever made), when Scott Hatteberg hits the walk-off home run in win No. 20. The way it's portrayed, with the silence, and the individual reactions, is incredible. But it's the crack of the bat that always gets me.
All other sounds drop and all you hear is the crack. And when Billy Beane turns his head to look at the TV – that's what baseball is about. To see something incredible, something that makes you drop what you're doing and just watch. It makes me feel like a kid again, watching the big guys do amazing things. Let's watch it together:
How can you not be romantic about baseball?
Baseball is also a game of fathers and sons, which is the most repeated narrative in all of fiction, but I digress. Look at this photo of little Vladdy Guerrero Jr. and his dad, and then read the tweets Vlad writes about his son.
Seriously, how can you not be romantic about baseball?
Baseball is so special, it gives grown men permission to cry. Look up articles written about "Field of Dreams", which is a schlocky piece of crap (yeah, I said it). It's not an interesting story: The guy builds a baseball diamond in a corn field in Iowa because he misses his dad. I can relate to that last part, but the rest is corny. It's a movie for men with daddy issues who are too proud to go to therapy.
But baseball is my favorite sport, and it's not close. As soon as the regular season is over, I am sad – I miss watching dailt baseball highlights. The World Series starts Tuesday and I'm already melancholy about that; soon there will be no baseball at all. I miss my Athletics.
As the years (and heartbreaks) have mounted up being an A's fan, I've learned a great deal about baseball. I've even made a pilgrimage to Cooperstown, to visit the National Baseball Hall of Fame. I spent four hours there. I loved every moment.
And that's part of the reason I started my 30 Stadiums in My 30s tour. I adore this game, and I fear it won't be here forever. Which is why I'm trying to see every major league ballpark as soon as possible.
Fortunately, I now have only *five* stadiums to go! Thanks to the road trip I took in August, I've knocked five more off the list. Which is the real reason I wrote all this: it's the return of the first (and only) feature I've had on my website: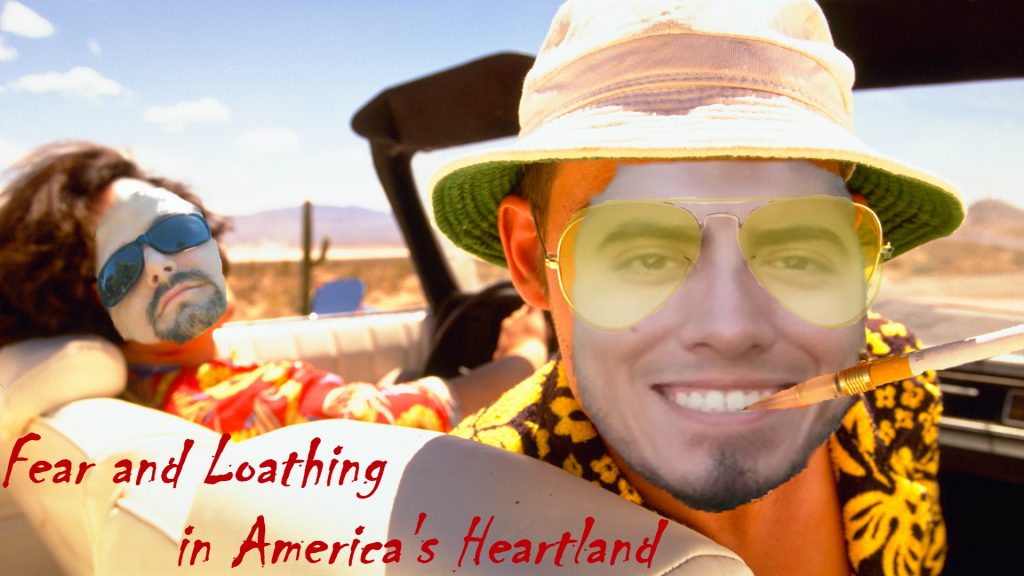 FEAR AND LOATHING in AMERICA'S HEARTLAND
That's right, Jordan is back and we're terrorizing Middle America again! This time it's an international roadtrip: we went to Canada!
Our trip began in Kansas City, with a visit to Kaufmann Stadium and the Royals. I won't say more, but keep reading to find out how it went!